Email Validation using Google Sheet Add-on from Gamalogic
posted on 09 Sep 2022 by Jessica Albert

Every digital marketer's dream tool is email Validation using Google Sheet Add-on from Gamalogic. We had a similar solution last year that was implemented. Thanks to Gamalogic's Google Sheets email validation add-on, verifying email addresses on Google Sheets was a breeze without any complicated integrations. Email marketers and lead generation specialists manage their email addresses and contacts these days. Instead of using Excel files, email marketers and lead generation specialists now use Google Sheets to manage their email addresses and contact databases.

Earlier, Gamalogic email validation shared the Google sheet add-on script publicly for our users to integrate the API with the Google sheet. This tool has been used by over 3000 users without a hitch. Our users are even better and more user-friendly now that we are releasing a new free tool. You can go through our script here for your reference which will be depreciated soon.

Gamalogic has taken a significant step toward assisting lead generation specialists and digital marketers who use Google Sheets to keep track of their email addresses. As you can see, there are only a few competitors who offer similar Google Sheets integration services that are both expensive and of poor quality. Users will have a 7-day trial period with 500 credits to test the quality of our email verifier service.

How accurate is Gamalogic bulk email verifier?

The Gamalogic bulk email verifier uses a proprietary algorithm for real-time email address validation. It begins with the SMTP pinging of the target domains' MX records. However, there is a disadvantage to this advanced technology: it may alert the ISP provider and cause our server to be website communication with our server. As a result, because such blocks are a problem, we use advanced algorithms to prevent them. And we improved the verification process by capturing all email addresses from cooperate emails configured under G-Suite and Office 356 services which make us the best email verifier in the market.

Let's jump into the tutorial.
Step 1
Open Google Sheets.
Step 2
Install Gamalogic Email Verifier and Email Finder Google sheet add-on from Google Workspace Marketplace. Click here for the link. This won't take more than 1 miniute.
Step 3
Click on the Add-on tab from Google sheet menubar and then select Email verifier or Email finder from the list.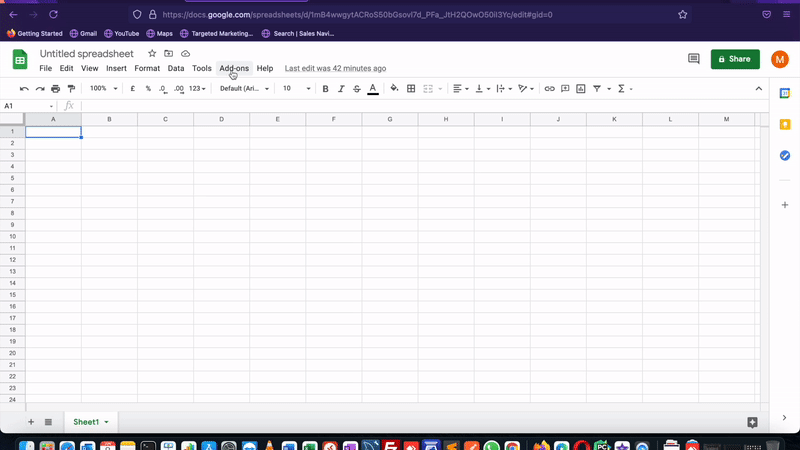 Step 4
Now the Add-on side bar pops up. Copy and paste the Gamalogic API key from Gamalogic dashboard to the Gamalogic add-on text box.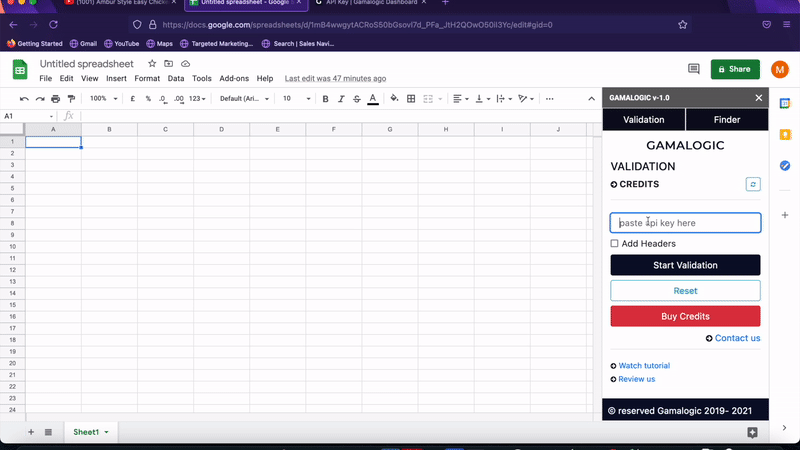 Step 5
You can add headers by checking the check box from the add-on sidebar.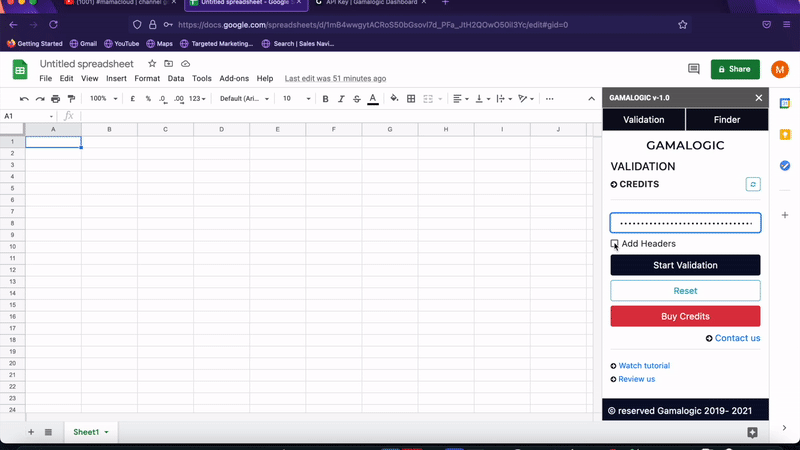 Step 6
Add the email address list to be verified in the column A or below header email address.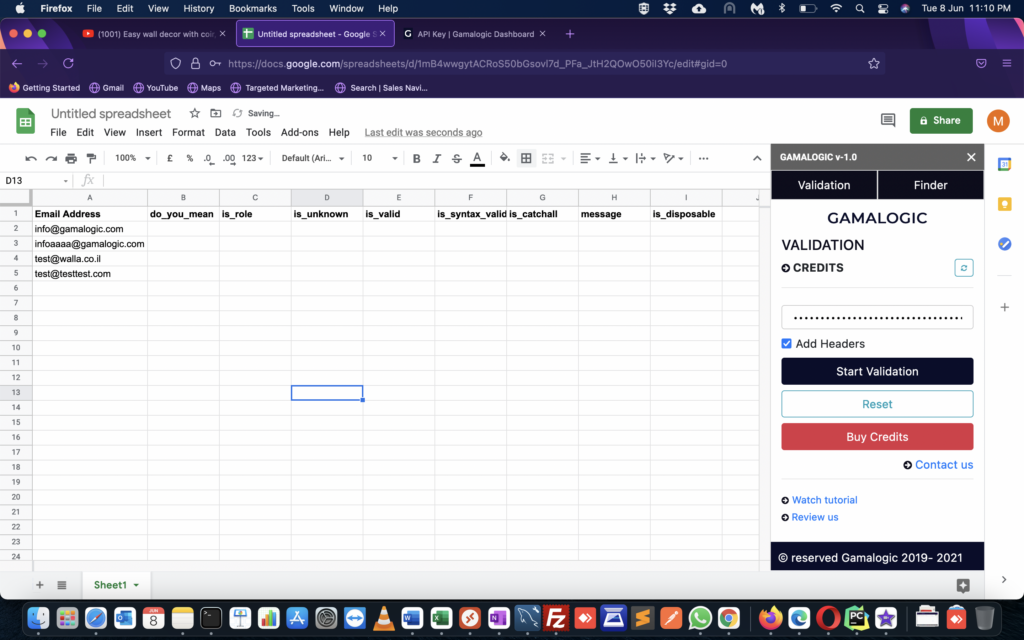 Step 7
Validate the email address list by clicking start validate button from the add-on.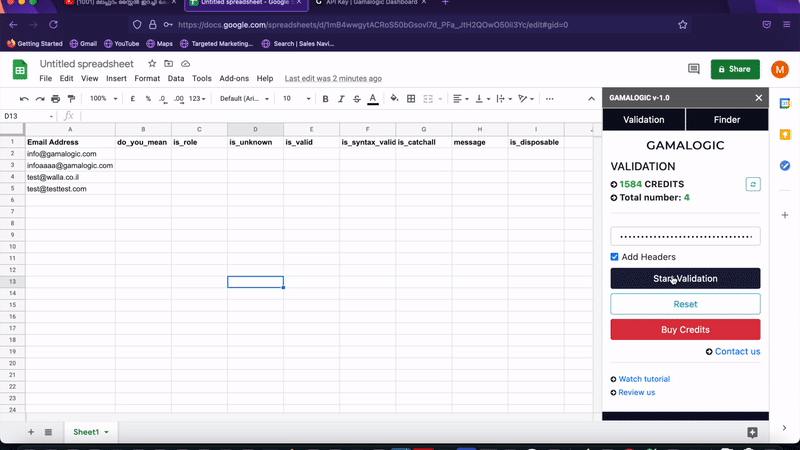 Step 8
Wait for the results to generate. Your results will be displayed in colour code format. Green which true or valid Address, Red are Invalid Address, Yellow are Catch-All Address and Grey will be Unknown Address. Your balance credits will be updated and with number of list verified in the sidebar.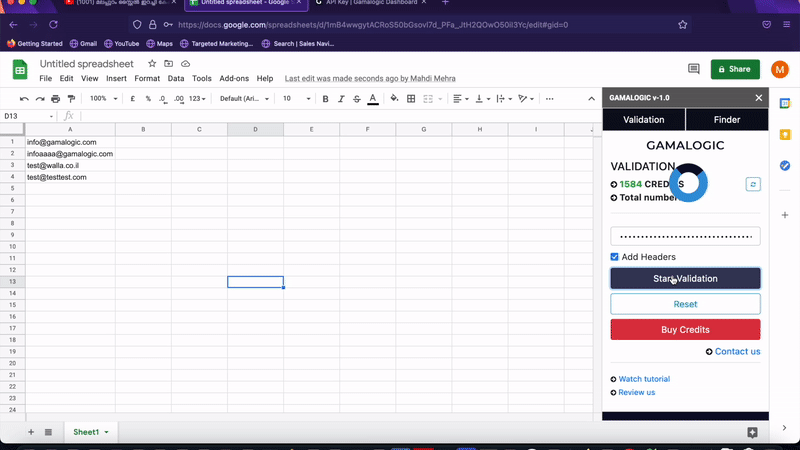 You can now sort the results according to the results or color code as per your needs. If you are low on credits click buy credits.
Go through the youtube tutorial below
Get started today!
Get instant credits for free on registering with us.
TRY FOR FREE